How to get all that?
Go ahead and Sign Up with MyPhoneRobot. Be assured, it will only take seconds - just click on our facebook or twitter button and approve our application, the process will take you straight to our home page, without asking you for any information, not a single character. Alternatively, you can click on the join button and it will take you to a standard sign up form: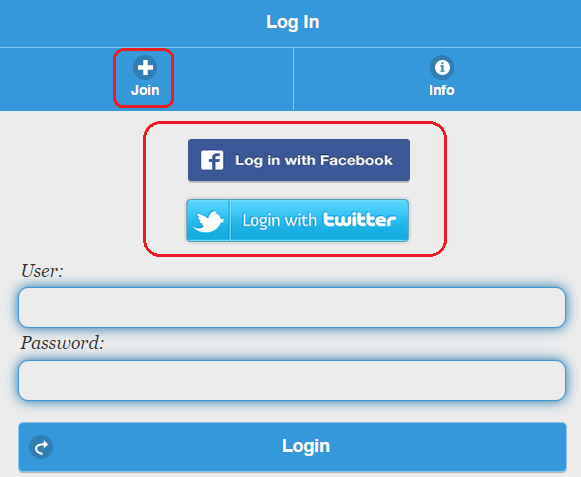 Once you land on our home page, click the "My Numbers" button: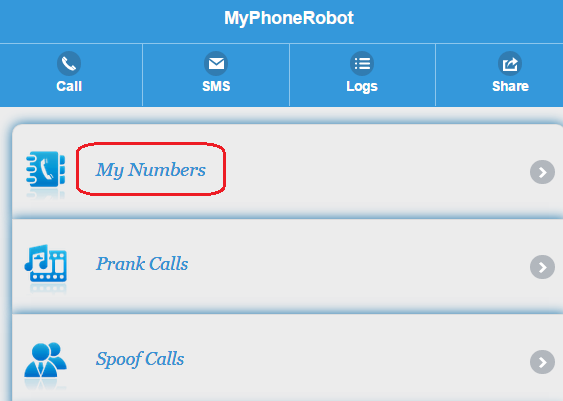 You will see a list of all your active phone numbers. If you have no phone numbers yet, the list will be empty and you should press the "Buy Number" button: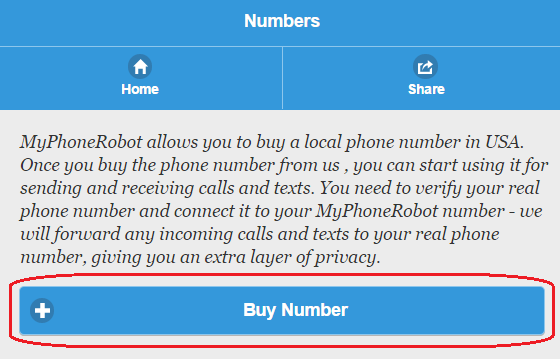 Now you can search and buy numbers from our database. Maybe you want an easy to remember number? Just start typing your desired number in the search field and our system will output any available number that starts with your input. Remember to always type at least 2 digits in the search field so we can execute a proper search: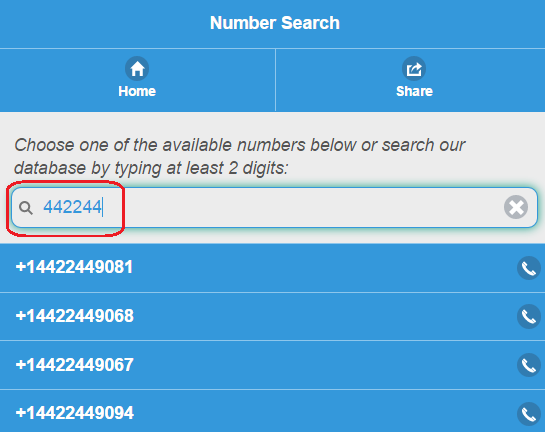 Got a fancy number in mind? You can own it for 1 month ( $2.99 ) or 1 year ( $29.99 ). Select a time period and give your number a friendly name so you can refer to it later. Choose your name carefully, this could increase your user experience in a great manner. You can also check the credits you need to purchase the number by hitting the price button( you do that, we are running promotions regularly ):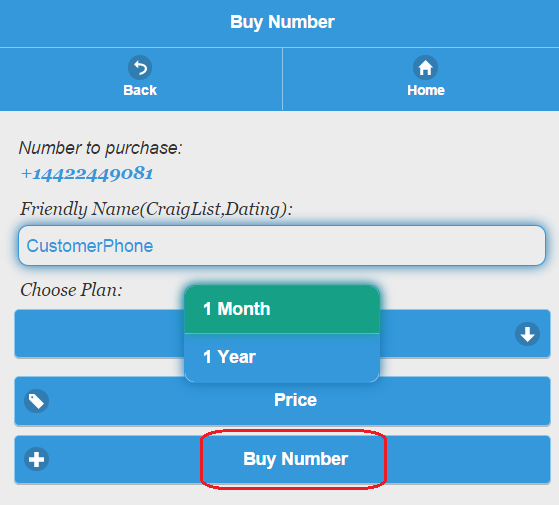 Okay, so you already have a number, now what? Let's get back to "My Numbers", find the number you just got and click on it :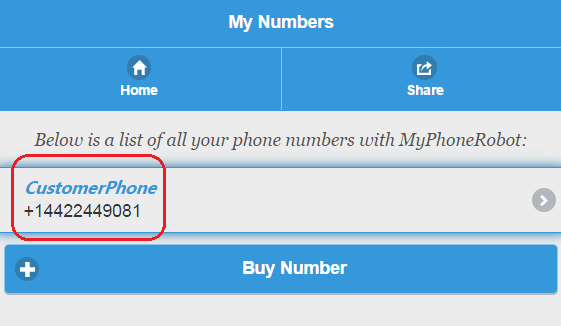 You are now taken to the phone number control panel- here you can do everything related to your number. There is an extend button that allows you to extend your number with 1 month or 1 year in case you need the number a bit longer. Remember, your number will expire after this time has elapsed. Do not worry, we will notify you both via email and sms ( if you have a verified number with us ). There is also a delete button that allows you to immediately delete your phone number in case you no longer need it. You can also initiate a call or send an SMS from this page, but more on that later: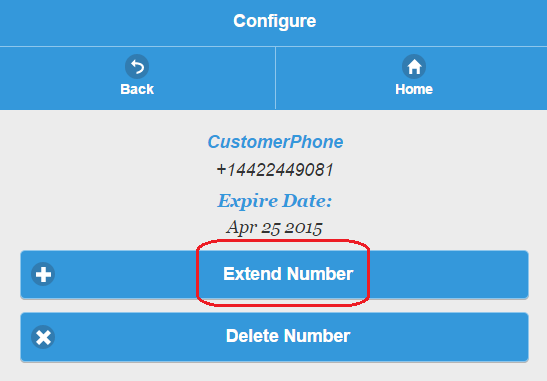 Now, that you have a number, you need to configure call forwarding. Enter your real phone number in our system, so we can forward all incoming calls and texts. Hit the Configure button:


Again, you need to enter your real phone number and give it a friendly name, so you can refer to it later. You also need to verify your real phone number so we are sure that you have access to it( and it is presumably yours ). Choose between SMS verification and Phone Call verification and hit the "Verify" button.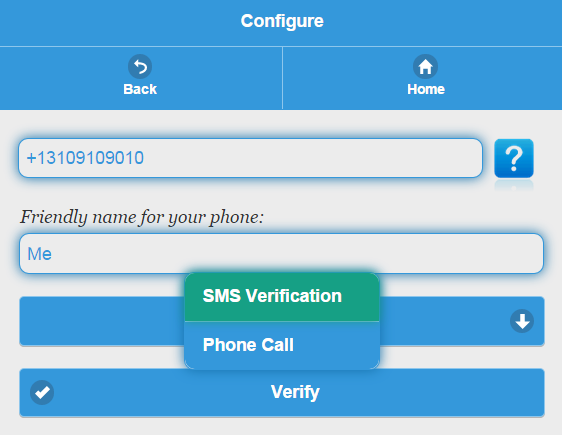 At this point, MyPhoneRobot has generated a secure pin code. The pin code has been sent to you, either via sms or via phone call ( if you want to verify a landline, you need to choose a phone call verification ). Wait a couple of seconds and you shall receive our secure pin ( if you do not receive the code within 2 minutes, hit the Resend code button) - enter the code into the verification code text field and hit the Verify button: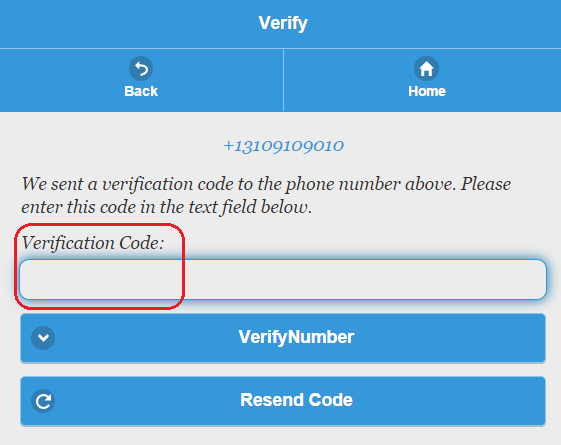 If everything is ok, you should received a message, stating that your real number is verified and now you can send and receive calls and texts internationally. You can conveniently stop the call forwarding at any time, if you are on vacation or you just don't feel like answering phone calls at this time ( it can be easily be re-enabled with a push of a button ):


At this point you are all set up and we are pretty sure, you would like to test the system. Let's see how we can initiate phone calls - hit the Call button either from your number control panel or even from the home page: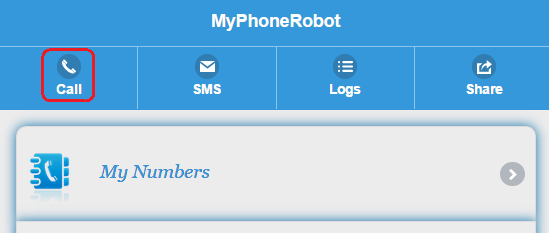 You will be taken to a page( if you have more than one MyPhoneRobot numbers, you would have to choose which one you want to use ), where you need to enter the number of the person you want to call( do not enter your own number, as we are already using it ). Our system will initiate the call. Your phone will ring first, pick it up, you will hear a dial tone - we are bridging the call with the target phone number( your number will not be revealed, instead we are using your MyPhonerobot number as originating caller id ). Using that technique, we guarantee your privacy, while delivering high quality, business-grade calls - our system does not depend on the end user internet connection.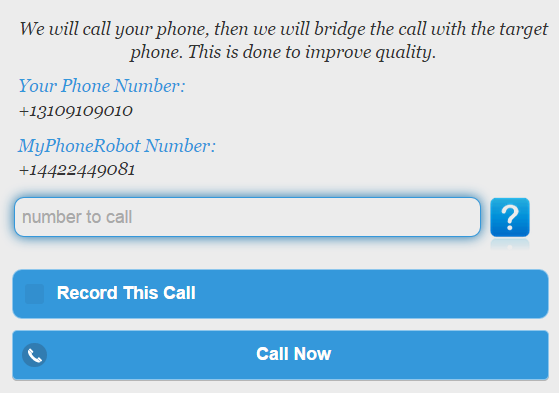 Now, let's send a text message - hit the SMS button, either from MyPhoneRobot homepage or your number control panel and you will be taken to our SMS page: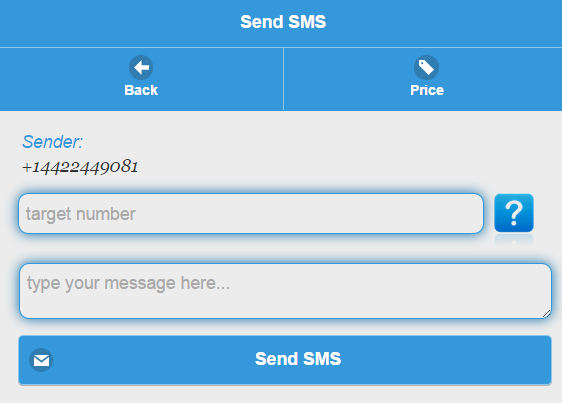 Pretty easy isn't it? We will guide you through the whole process, just click on the getting starting button below and you will be up and running within a minute!