How to send a prank call
Enter the phone number of your friend or the person you want to prank. Remember, the phone numbers are in international format, you can read more about this in our phone number format blog article.


Select the prank call scenario to be sent. Actually this is a pre recorded mp3 file that will be played on the recipient's phone


You are pretty much ready to go - just click the send button and MyPhoneRobot will dial the recipient and play the prank call scenario. You can record the call and listen to it later. You can also check the price of the call depending on the target phone number from the first step. If you want to hear the prank before sending it - click on the play button.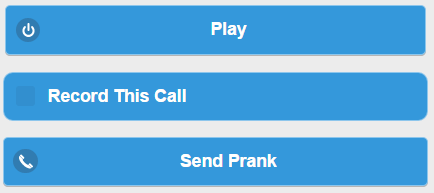 You are ready to go. Creating an account with MyPhoneRobot takes seconds. Your privacy is guaranteed and we offer superior quality for very low prices. Just click on the getting started button below and we will guide you through all the steps: